Tesla is "worth almost as much as the entire European automotive industry". Who is goofy? Me and European car engineers or some investors?

We show that Tesla is worth almost as much as the entire European automotive and automotive supply industry together. In addition, Apple has achieved a higher market capitalization than all DAX 30 companies together. What do you think about this?
Figure 1 shows the market capitalization of the entire European automotive and automotive supplier sector, the component of the STOXX 600 Auto & Parts Index is in blue. The market capitalization of Tesla is shown in red.
Figure 1: Market capitalization of Tesla and STOXX 600 Auto & Parts (in millions of US dollars)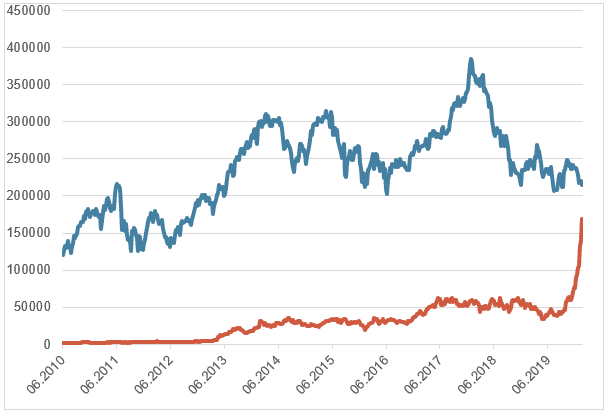 Tesla is the most expensive automobile company in this solar system after Toyota
It is striking that Tesla's stock market value is now almost as large as the market capitalization of BMW, Continental, Daimler, Faurecia, Ferrari, Fiat Chrysler, Hella, Michelin, Nokian, Peugeot, Pirelli, Porsche, Renault, Valeo and Volkswagen combined. Tesla is currently the most highly capitalized automobile stock after Toyota.
Gigantic valuation difference between Tesla and "the rest
Tesla's price/earnings ratio is 113.6, that of the European automotive sector including the supply industry around 8. The price/book value ratio of the European automotive sector is around 0.86. That of Tesla is around 25.1.
What is Tesla, automotive company or high-tech company?
Even if Tesla were considered a high-tech company that solves transport problems, it is difficult to justify its high valuation. The core business of Tesla so far is the production of "electric cars". Are the European competitors so goofy that they cannot produce similarly attractive competing products in the long term? Is the market for electric cars so unassailable? Are the Tesla engineers and Elon Musk much more brilliant than all the others? If Tesla were less of an automobile manufacturer and more of a high-tech transport problem solver, the question arises whether the path to becoming a high-tech transport company can be permanently denied to all other automobile companies.
Is Apple worth more than all DAX companies?
Apple's market capitalization is greater than the market capitalization of all DAX30 companies combined. This situation also seems "strange".
Declining market breadth, significant underperformance of intrinsic value, equally weighted or fundamentally weighted investment strategies
The stock rally has concentrated on fewer and fewer stocks and the market breadth is declining sharply. A few stocks, especially American large-cap tech stocks such as FANG shares, are driving various index levels to ever new record highs. The outperformance of market-weighted indices compared to equally weighted or fundamentally weighted indices is unusually pronounced. The underperformance of European stocks compared to US stocks is unusually extreme.
Symptoms point to unhealthy developments in the financial markets
In the past, these developments were typical during the hot "inflation phase" of stock market bubbles (tech bubble 2000) and are fundamentally "unhealthy". The NASDAQ bubble 2000 preceded the Asian crisis in 1997, and certain patterns may be similar. In the short term, a further meltup of "fashion stocks and fashion sectors" is possible, perhaps even probable. In the long term, a strong outperformance of out-of-fashion stocks and substance indices is likely.
Selective carelessness…?
All in all, these widening valuation gaps probably point to a "selective carelessness" on the part of investors, which is less common in other markets, such as the currency and commodity markets.
… or
Is it a rock-solid trust in the central banks and a Pavlovian reflex of fear of missing the "meltup"?
It is astonishing that the Chinese stock market, for example, has been able to completely make up for its losses since the outbreak of the coronavirus COVID 19. Confidence in the stimulus measures of the PBOC and the Chinese administration is very high. The duration, extent and geographical spread of the epidemic are unknown. Even Tesla is not unaffected by the virus in real economic terms.
But, like a commentator on Seeking Alpha writes:

In this sense: It is carnival time. The foolish days may soon be over. Because it is becoming increasingly difficult for central banks to make bad news good news.
This post was automatically translated
Thomas Härter
Chief Investment Officer Aquila