We provide a brief overview of how Swiss real estate is affected by the Corona crisis. While residential real estate should be less affected, office real estate and shopping centers will come under pressure. Legal uncertainty prevails about owed rents for premises that were not allowed to be used for business purposes due to the lockdown.
Biggest economic slump since 1975 in Switzerland
Switzerland is likely to experience its biggest economic slump since 1975. SECO is expecting a decline in GDP (adjusted for sporting events) of -6.7% in 2020. As a small, open economy, Switzerland runs the risk of being affected to an above-average extent.
Aid package amounting to 6% of GDP does not burden creditworthiness
The Federal Council has approved an aid package of 40 billion Swiss francs, which corresponds to around 6% of gross domestic product. Thanks to the debt brake introduced in 2003, the Swiss national budget is solid, so there is no threat of a debt crisis. Switzerland is among the countries with the best creditworthiness in the world.
Real estate is one of the late-cyclical investments
The coronavirus is also likely to leave its mark on the Swiss real estate market; negative influences are expected in particular for commercial real estate as well as retail space and shopping centres. Real estate almost always reacts belatedly to a deterioration in the economic situation; it is clearly one of the late-cyclical asset classes.
Office real estate and shopping centres under pressure
If the trend towards working from home continues, the rental prices for office space could come under noticeable pressure (see following chart). Demand for office space could be negatively affected by the recession and by corporate insolvencies, as well as by a structural increase in homeworking. The above-mentioned index is based on advertisements for office space and is quality-adjusted. It is calculated by Wüest Partner on behalf of the SNB. Properties with a high exposure to tourism or to conferences and trade fairs are also severely affected.
Commercial office space Demand-price index Switzerland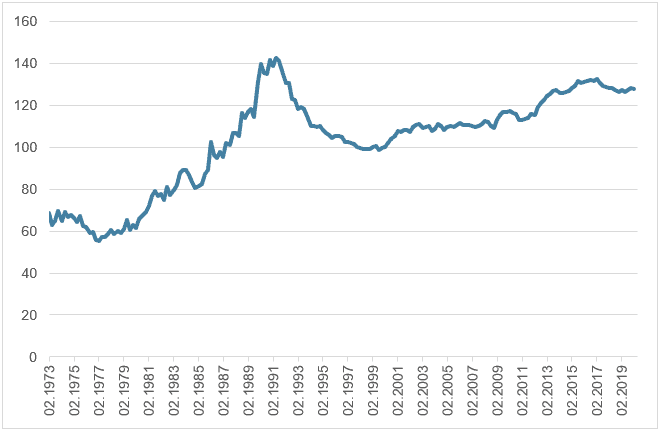 Flood of rent reduction applications and legal uncertainty
Owners of commercial properties are bombarded with applications for rent reductions and deferrals. Whether the rent is due at all if the tenant, e.g. a caterer, was not allowed to open his restaurant at all will have to be clarified by the highest court (probably years later).
Residential segment is a source of stability
The residential segment, on the other hand, should prove resistant to the crisis. Rising vacancy rates are causing some unease only for rental properties in peripheral locations.
Logistics properties that profit from the growth in online trading could also gain.
Less unattractive than Swiss Government Bonds
Swiss real estate is historically, stately valued. Nevertheless, they are valued "significantly less unattractive" than Swiss government bonds. The investment crisis in the fixed-interest bond sector and the high investment needs of Swiss pension funds and insurance companies continue to have a price-supporting effect.
This post was automatically translated
---
Thomas Härter
Chief Investment Officer Aquila