Market Outlook | 3rd Quarter 2020
Tactical Perspective:
Macro Bonds Equities Other Asset Classes
Executive Summary
We expect global economic growth of -5% (+3.5%) for 2020 (2021). USA: -8% (+4%), EU: -9% (5.5%), Japan: -6% (2.5%), UK: -10% (+6%).
While re-openings (or the reversal of previous lock-down measures) may lead in the short term to higher growth, we don't expect a V-shaped recovery.
We are going to see an increase in insolvencies despite all the government rescue packages and central bank balance sheet expansion.
The Fed may well introduce measures to control the entire yield curve (yield curve control). Agents have sufficient resources to resume their activities.
Stock market developments are not consistent with trends in macro-economic data.
Widespread expectations of a V-shaped recovery have resulted in high valuations for certain asset classes.
Forex markets have been rather stable of late.
We continue to have a positive outlook for gold.
---
Our macroeconomic assessment
Business cycle
SECO is forecasting a decline of -6.7% in 2020 after adjusting for sports events. And the Bundesrat has agreed an aid package of CHF 40 billion, equivalent to around 6% of Swiss GDP. Switzerland's budget is manageable thanks to the restrictions on Federal debt levels (the debt brake) introduced in 2003. So there is no threat of a debt crisis. Switzerland has one of the best country credit ratings worldwide.
May data on the US job market delivered one of the biggest positive surprises in years. While the consensus expectation was for the US unemployment rate to rise from 14.7% to 19%, a fall to 13.3% was reported. And whereas a fall in non-farm payrolls of 7.5 million had been expected, the report indicated a monthly increase of 2.5 million jobs. The financial markets celebrated the May labor market report with a firework display of stock price gains.
Switzerland Purchasing Manager Index and GDP, 10 years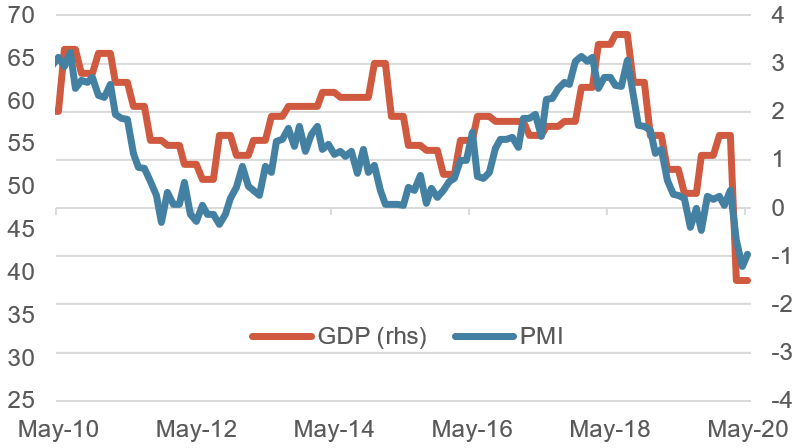 Monetary policy
Many market participants assume that the Fed will fight an equity bear market more aggressively than it ever has in the past. This expectation, as well as the extremely aggressive expansion of the Fed's balance sheet and the creation of excess liquidity, explain why stocks have been able to post such strong gains at a time when the US economy is likely facing the worst recession since the Great Depression.
US short-term interest rates have never been as low as they now are – neither during the Great Depression nor during the Second World War, when the Fed simply dictated short-term interest rates.
Recently, and the first time in months, the Fed's balance sheet has declined very slightly, reflecting a fall in US dollar swap activity between the Fed and other central banks. This is a positive sign that the US dollar funding squeeze may be coming to an end.
The European Central Bank has decided to extend its Pandemic Emergency Purchase Program (PEPP) and to expand it by EUR 600 billion. The ECB thus promises to buy up a total of 1'350 billion euros in bonds and to run the program until at least mid-2021.
---
Our investment policy conclusions
Bonds
Right now, US bond markets are focused primarily on how a dramatically increasing supply of bonds resulting from US fiscal stimulus can be absorbed. The Fed is fundamentally a buyer of bonds (due to QE), but to a lesser extent than previously. The risk that oversupply causes interest rates to rise must be avoided at all costs. The easiest way would be through yield curve control (YCC), whereby the Fed would set interest rates across the yield curve. In such a world there is no need for the market to set bond prices.
This strategy was implemented in the US in the 1940s. The aim then was to "inflate away" for a time astronomical war-related debts via negative real interest rates.
10 year government bond yields last 5 years, in %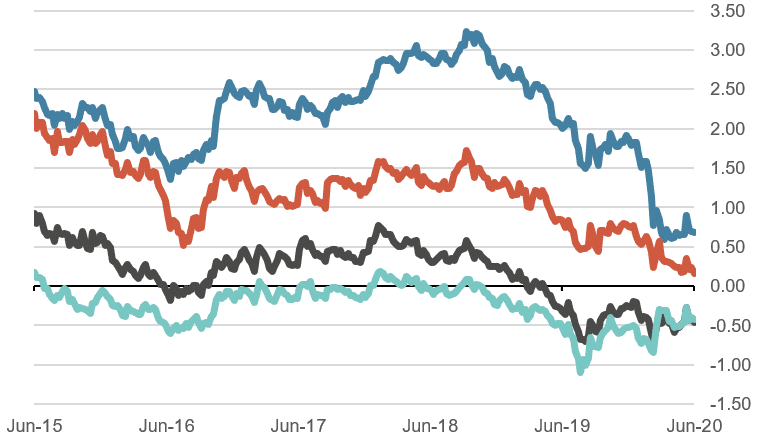 Equities
Since the lows of mid-March, world stock markets have recovered by around 35%. This development appears in conflict with the economic outlook as many macro indicators are now signaling that there will be no V-shaped recovery.
An interesting criterion for the valuation of stocks is the so-called Buffett indicator which places the entire stock market capitalization in relation to GDP. In the US, this ratio is back up to levels last seen in the "tech bubble" of 1999/2000. By almost any measure market valuations look elevated. Warren Buffett regularly comments on this and has emphasized that he can't see any cheaply valued companies to buy.
Equity markets, perfomance year to date, indexed
Forex
The Swiss franc remains in demand given the increasing uncertainty in Europe. The SNB has once more become significantly more active in its forex intervention, as the latest statistics show.
The US dollar has moved only slightly against the other major currencies of late. Previous "financing stress" in the euro-dollar area has subsided in the context of the Fed provision of USD swap lines to a large number of central banks. The price for this access to USD liquidity is a greater dependence on the USD area. There are those who see these developments as a preparation for the introduction of the US dollar as the "world currency".
USD/CHF, last two years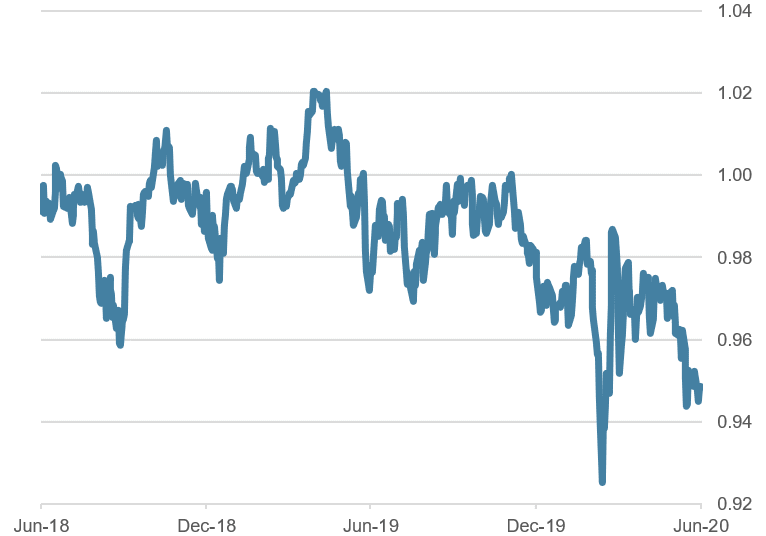 ---
Disclaimer. Produced by Investment Center Aquila Ltd. The information and opinions contained in this document are based on sources that we consider to be reliable. Nevertheless, we cannot vouch either for the reliability or for the correctness or completenessof these sources. This information and these opinions constitute neither a request nor an offer or recommendation to buy or sell investment instruments or to conduct any other transactions. We strongly recommend that prospective investors consult their independent financial advisor before making decisions based on this document in order to ensure that their personal investment objectives, financial situation, individual needs and risk profile and any additional information provided in comprehensive advice are properly considered.