Market Outlook | 2nd Quarter 2020
Tactical Perspective:
Macro Bonds Equities Other Asset Classes
Executive Summary
We now forecast the world economy will contract by 1% in 2020.
With the coronavirus now affecting all parts of the world and widespread quarantine restrictions we have substantially cut our estimates for economic activity this year.
It is already clear that the first half of 2020 will see a collapse in growth rates. As a result, it looks as though this will cause negative growth in many regions for 2020 as a whole.
On a worldwide basis, governments are introducing protective packages to try and stave off widespread bankruptcies. When (hopefully within two to three months) economies start to pick up again, it is essential that companies and other economic agents have sufficient resources to resume their activities.
We are slightly underweight in equities. While patience looks appropriate right now, we intend to take advantage of future setbacks to build up positions.
---
Our macroeconomic assessment
Business cycle
We now forecast that the world economy will contract by 1% in 2020. Covid-19 has led to a partial shutdown of economic activity in large parts of the world. It is both a supply and a demand shock. A sharp recession is now unavoidable in most countries. Critical for the economic outlook will be how quickly the number of new infections can be reduced, thus allowing quarantine restrictions to be lifted.
The Eurozone Purchasing Managers' index (PMI) collapsed in March to 31.4, its lowest level since 1998. Meanwhile, the UK PMI also reported a massive decline to 37.1. These falls are more dramatic that those at time of the global financial crisis. The March reading for the US PMI was 40.5 (compared to the consensus estimate of 44 and February's 49.6). We expect a further sharp fall in the April US report.
Eurozone Purchasing Managers' index, last three years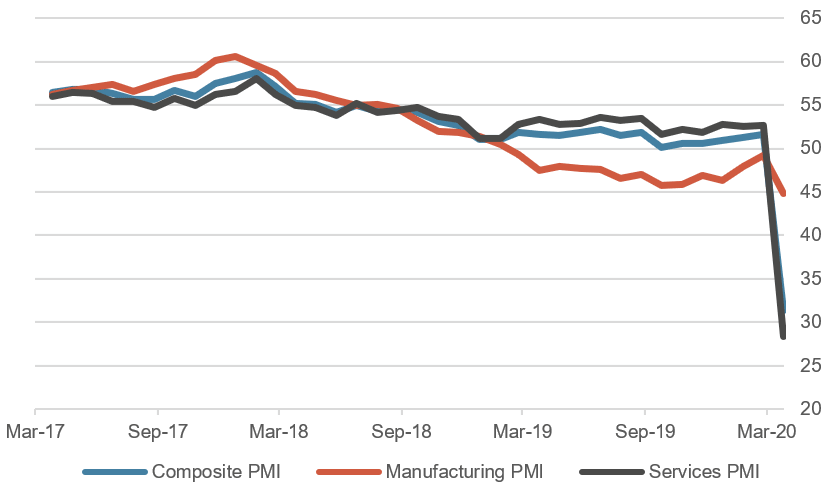 Monetary policy
The coronavirus is probably the biggest supply shock the industrialized world has ever experienced. An ever-larger proportion of the global workforce is subject to isolation or quarantine and cannot work. Central banks can't prevent this from happening.
But central banks can prevent a massive credit crunch such as might lead to a global wave of bankruptcies. Valuable time can thus be saved until fiscal rescue packages, which the politicians put together, can be implemented and take effect. Central banks can react immediately; fiscal bailouts take time.
Thus we believe that central banks still have a vital role to play, even though, with interest rates at zero and given the previous expansion of their balance sheets, they have already used up many of the weapons in their armory. As lenders of last resort they can prevent a system crash, financing if need be the massive fiscal packages now being put together. "Yes they can".
The ECB will buy up 750 billion euros worth of bonds by the end of the year and will offer banks extremely favorable financing terms. The Fed has bought nearly $600 billion in US bonds, equivalent to nearly 3% of US GDP.
---
Our investment policy conclusions
Bonds
Government bond markets have gyrated wildly in recent days. The equity crash has impacted correlations between the various asset classes including government bonds. At times, these were sold heavily as leveraged and other investors sought to raise cash where they could.
Following announcements of massive security purchase programs by the central banks market conditions have stabilized somewhat. The Fed's balance sheet already stands at $4.6 trillion and further substantial increases are in prospect.
On the other hand, government economic rescue packages will need to be financed through the bond markets. We expect a huge increase in the supply of government bonds.
10 year government bond yields last 5 years, in %
Equities
The crash in stock markets has been exacerbated by the forced reduction of leveraged positions due to margin calls. Analysts estimate that up to $12,000 billion in margin calls might have been triggered, resulting in the sale of assets across all asset classes. In addition, the market has obviously needed to react to a dramatically worsening macro situation. Right now, the uncertainty is huge as no one can predict how the shutdown will impact large parts of the global economy and what might be the knock-on effects on corporate balance sheets and profits.
We will slowly start to lift our underweight in the equity quota, with a focus on US and Swiss companies. Among sectors, we favor technology, pharma and healthcare as well as consumer staples. We will avoid sectors and companies where cash flows stand to be substantially impacted by the coronavirus crisis.
Equity markets, perfomance year to date, indexed
Forex
Given the huge upheavals in all asset markets, it is unsurprising that the major currencies become more volatile. As the crash developed the dollar came initially under pressure. Subsequently it has been heavily in demand as investors sought dollar liquidity to service margin calls. Swap lines with all major currencies have now been made available by the Fed, alleviating the problem somewhat. The US dollar is generally "king" during a crisis and has been so yet again this time.
But we view the present situation as highly unstable as astronomically rising public debts could well force trading patterns into an entirely different direction. How long will markets continue to trust "fiat" currencies given the massive funding requirements of governments and the extent to which these stand to be financed through monetary creation? A loss of confidence in the global currency system could have catastrophic consequences. In this context, we note that credit default swaps for the US have risen recently from 15 to 25 basis points.
EUR/USD, last two years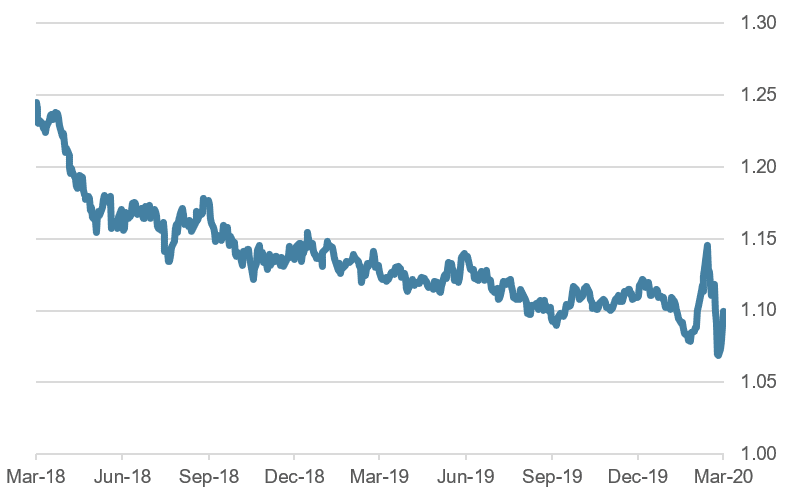 ---
Disclaimer. Produced by Investment Center Aquila Ltd. The information and opinions contained in this document are based on sources that we consider to be reliable. Nevertheless, we cannot vouch either for the reliability or for the correctness or completenessof these sources. This information and these opinions constitute neither a request nor an offer or recommendation to buy or sell investment instruments or to conduct any other transactions. We strongly recommend that prospective investors consult their independent financial advisor before making decisions based on this document in order to ensure that their personal investment objectives, financial situation, individual needs and risk profile and any additional information provided in comprehensive advice are properly considered.